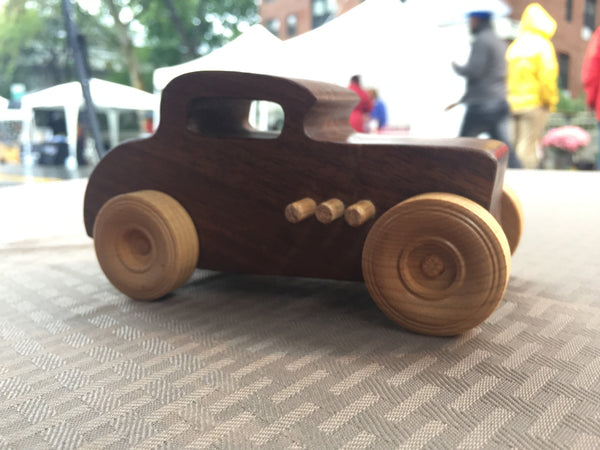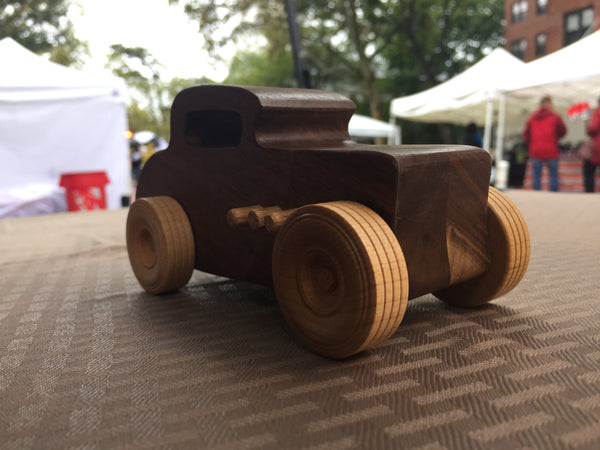 Wooden Toy Hotrod Toy Truck // il Bassotto ~ "Shortie" Hotrod // la macchina truccata
// ALL WOODEN TOYS ARE MADE-TO-ORDER AND WILL TAKE 3-7 DAYS FROM ORDER TO ARRIVAL AT YOUR HOME  - PLEASE INCLUDE ANY SPECIAL REQUESTS IN THE NOTES SECTION UPON CHECKOUT! //
Cruise the streets in a low profile with our "Shortie" Hotrod (in Italian, il Bassotto)! Coming from a long line of height-challenged Italians, we know that being closer to the ground isn't always a bad thing! This handsome toy wooden hotrod is raring to go and hug the corners with its low-profile and sleek design. With solid hardwood construction and functional wheels this hotrod is ready to tear up the streets (aka your carpets and floors!) to your little one's content! Cut, sanded and finished by hand, these hotrods are made from walnut and pine and not only will provide endless fun for your children but will look pretty darn good while they're at it!

With functional wheels, the "Shortie" Hotrod is set for hours of fun zoomin' around the roads in your little one's imagination! You can rest assured that these cars will stand the test of time - Pane Perso toys are high-quality, durable and backed by our promise, if it were to ever break, we'll fix it!

All toys are lovingly hand cut, sanded, and finished in West Milford, NJ!
SIZE: 4"L x 3"W x 3"T

NOTE: All of our vehicles are handmade and made-to-order and as such, the color/grain of the wood may vary from the pictures in this listing. If you have custom instructions or requests, please feel free to include them in the 'Notes' field upon checkout!


DISCLAIMER: All toys are created using solid lumber (no particle board or composite woods), are NOT stained, and are finished with an all-natural, non-toxic mineral oil to protect the wood and give it a beautiful sheen. Through use, the toy's luster may fade, but can easily be restored with a few wipe downs with some mineral oil (the same kind you use on your wooden cutting boards is perfect for the job!) Also, although there are no small, detachable parts in this wooden toy truck, we advise parental supervision while little ones play with our wooden toys!




| toys | wooden toys | wooden hotrod | toy hotrod | toy truck | toy car | children's toys | natural toys | wooden cars | toy cars | wooden trains | wooden planes | wooden automobiles | handmade | artisan | baby gift | newborn gift | artisan woodwork | artisan goods | home goods |
---