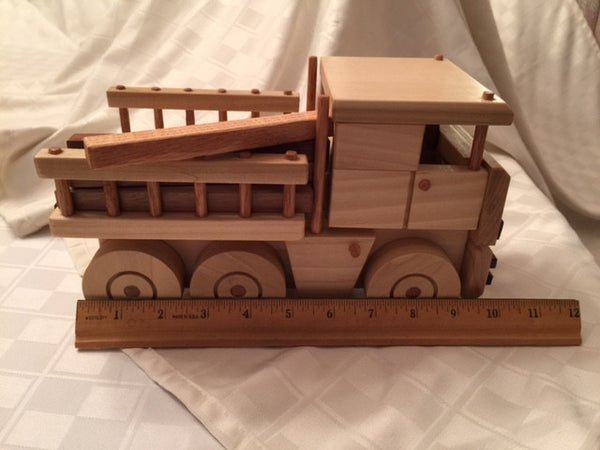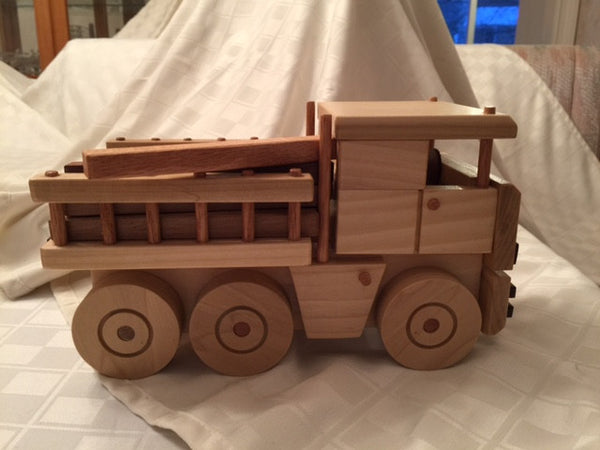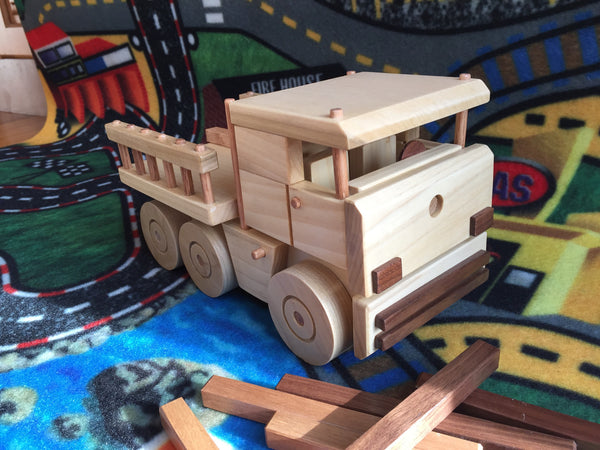 Wooden Toy Truck // La Flotta Enormi // il camion tedesco // Giant German Truck
Big. Bold. Beautiful. And the first in our new fleet, la Flotta Enormi - the Enormous Fleet! This ENORMOUS truck (where the moniker, gli enormi - "the enormous" - came from!) bears a striking resemblance to those trucks from one very world-famous German automaker, hence the name - il camion tedesco - the German truck! My grandfather was captured in Germany during World War I and was given an opportunity to work with a farming family once the war was over - we decided to name this truck the German Truck in honor of Giuseppe and the kindness and generosity that German family showed to ours.

Made from solid lumber and sturdily constructed to withstand the most rigorous of play our wooden toy truck will stand the test of time and grow as your little one does too!

The German Truck has a large flatbed ready to carry any and everything one could imagine and its larger-than-life frame are perfect for hours of imaginative play! Whatever your little foreman (or woman!) has in mind, the German Truck can do the job!

You can rest assured that these cars will stand the test of time - Pane Perso toys are high-quality, durable and backed by our promise, if it were to ever break, we'll fix it.

All toys are lovingly hand cut, sanded, and finished in West Milford, NJ!


DIMENSIONS: 11"L x 5.5"W x 6"H


NOTE: All of our vehicles are handmade and made-to-order and as such, the color/grain/type of the wood may vary from the pictures in this listing. If you have custom instructions or requests, please feel free to include them in the 'Notes' field upon checkout!


DISCLAIMER: All toys are created using solid lumber (no particle board or composite woods), are NOT stained and are finished with an all-natural, non-toxic mineral oil to protect the wood and give it a beautiful sheen. Through use, the toy's luster may fade, but can easily be restored with a few wipe downs with some mineral oil (the same kind you use on your wooden cutting boards is perfect for the job!) As always, please supervise your children while playing with this toy. Not suitable for children under the age of three.







| toys | wooden toys | wooden truck | toy truck | BMW | truck hauling | trucking | children's toys | natural toys | wooden cars | toy cars | wooden trains | wooden planes | wooden automobiles | handmade | artisan | baby gift | newborn gift | artisan woodwork | artisan goods |