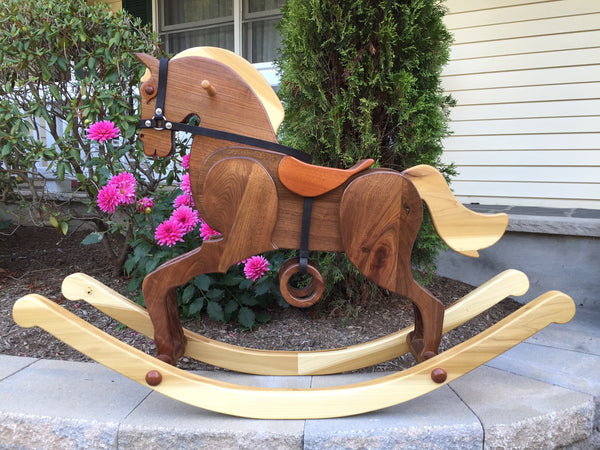 Wooden Rocking Horse // Cavallo Napolitano // Handmade Artisan Rocking Horse
// ALL ROCKING HORSES ARE MADE-TO-ORDER AND WILL TAKE 2-4 WEEKS FROM ORDER TO ARRIVAL AT YOUR HOME - PLEASE INCLUDE ANY SPECIAL REQUESTS IN THE NOTES SECTION UPON CHECKOUT! //
Cavallo Napolitano is our 'runway' model, as we like to call it. This wooden rocking horse is akin to the Neapolitans (denizens of Naples, the city of embarkation for Angelo's journey to the USA) showy, opulent, beautiful and don't they know it! Sleeker than the Cavallo Lavianese this rocker features leather stirrups and reins as well, for getting that proper amount of 'giddy up'! Ready to bring years of enjoyment and smiles, this piece looks great as your youngster enjoys rocking back and forth or just as striking on its own in your home. 
We have created strikingly beautiful models out of woods such as pine, mahogany, cherry, oak, and many more - you can feel confident that your horse will reflect your personal style as well. 
As the wooden rocking horse pictured are shown as examples and for your reference, when ordering please consult the options below and denote your choice in the notes section of your purchase. Don't worry if you don't have all the details right now or forgot something, we'll be following up with you personally to ensure we create exactly what you have in mind for your rocker!
DISCLAIMER: As with all toys, we suggest that this rocker is only used by youngsters under parental supervision!
SHIPPING: Shipping for this item will be determined between the buyer and seller in order to ensure proper and safe handling of your purchase from our door to yours. Pickup and/or delivery within 200 miles can also be arranged.
SIZE:
48"x12"x34" – 30lbs unboxed
TIMING:
Each horse is a project in itself, but from order receipt to delivery, our timeframe for a 'from-scratch' order is 4-6 weeks. Once we receive your order details we will contact you to discuss the finer details! 
| rocking horse | wooden rocking horse | custom rocking horse | rocking animal | rocker | baby's first rocker | rocking fox | rocking dog | rocking frog | handmade | artisan | baby gift | newborn gift | custom rocking animal | custom rocker | artisan woodwork | artisan goods | 
---